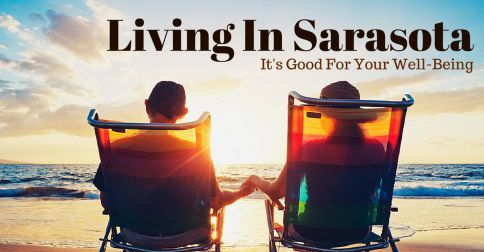 Well, we've always known there is no place better to live than Sarasota, but now it's been confirmed. Every year Gallup does a survey to assess the nation's well-being and in 2014, the North Port-Sarasota-Bradenton area came out tops! The survey looks at 5 elements of well-being—purpose, social, financial, community and physical—in the 100 most populous metropolitan areas in the country. To gather the information Gallup interviewed an incredible 176,702 people and around 300 or so in the Sarasota area.
Financial Well-Being Means Less Stress For Sarasota Residents
While, not topping the ranks in any of the individual categories, Sarasota was in the top five for three of the elements and in the top 15 for the other two. Financial well-being was a particularly standout area for the community. The survey defines financial well-being as "managing your economic life to reduce stress and increase security" and they found that residents of communities that were financially well off were 16% less likely to worry about money than residents of communities where financial well-being is low. Sarasota finished second in this category, only behind Honolulu. This is particularly impressive considering that for Florida as a whole, financial well-being can be a struggle. Florida came 42nd out of the 50 states for this element.
Beautiful Beaches And Parks Encourage Sarasota's Healthy Lifestyle
Sarasota's other standout category was physical well-being, defined as "having good health and enough energy to get things done daily". With great weather—250 sunny days a year—and beautiful beaches and parks, this part of the coast has a lot of reasons for people to get outside and get active. Gallup found that people from high physical well-being areas were an amazing 25% less likely to suffer from depression. On physical well-being, only El Paso, Texas beat out Sarasota.
Sarasota's Festivals And Cultural Events Are Perfect For Socializing
Social well-being was next best for Sarasota; the community was 4th overall, behind Chattanooga, Bakersfield and Thousand Oaks. The report describes social well-being as "having supportive relationships and love in your life". More social time means less stress, so this is important for everyone. It's not surprising we do so well on this score, there are just some many opportunities to get social in Sarasota, besides great restaurants and cultural events, there are festivals and special events here almost every month. There is always an excuse to go out and spend time with those you love.
Living In Sarasota—Of Course We're Proud
The final two categories, where Sarasota finished 11th and 12th respectively, were purpose and community. Purpose, which Gallup describe as "liking what you do each day and being motivated to achieve your goals" can be related to career fulfillment or the general sense of getting the most out of life. In high well-being places like our city, residents are 12% more likely to learn new and interesting things. The final category, community, means liking where you live, feeling safe and having pride in your community. That Sarasota should do well in that category is no surprise really, this is a great place to live. Of course, we're proud of it!
So have we convinced you to move to Sarasota? Team Coffey & Co are Sarasota relocation experts. We can help make your move a smooth as possible. Get in touch, today: 877.308.6311 and check out our Sarasota relocation guide!