Each month, My Florida Regional Multiple Listing Service provides Inventory statistics to the local Florida Realtor Boards. The Statistical Report for the month of June 2017 shows an increase of Inventory, Median Sales Price & Time to Contract. Within this data, you will also see an increase in "PENDING" Sales and a decrease in "CLOSED" sales as compared to last year. Here are a few Featured Statistics:
INVENTORY-
The Sarasota condo market had a significant 36.2 percent increase in pending sales and a jump in NEW listings, but a decrease in median Price. The Inventory continues to increase year after year. However, compared to last month, inventory showed a decrease by 6.2 percent from last month.
Single family homes Inventory dropped by 3.6 percent. Single Family home CLOSED SALES showed a drop in June by 0.4 percent, primarily in Sarasota. PENDING Single Family Home sales increased by 7.9 percent in two counties combined. These figures can be a good indicator of future CLOSED sales.
TIME ON MARKET-
"Time on Market" can be best described as the time between "Listing to Closing". Sarasota condos spent 67 days, while Manatee spent 54 days on the market. For single family homes, Sarasota is at 61 days on the market and Manatee at 47 days.
PRICING-
Single family homes in Sarasota are at a median price of $275,000, an increase of 10.9 percent from last year. Manatee single family home prices increased by 4.5 percent to $297,750. Condo prices are up 4.9 percent to $182,500 in Manatee County, but showed a 2 percent decrease for Sarasota County at $215,000.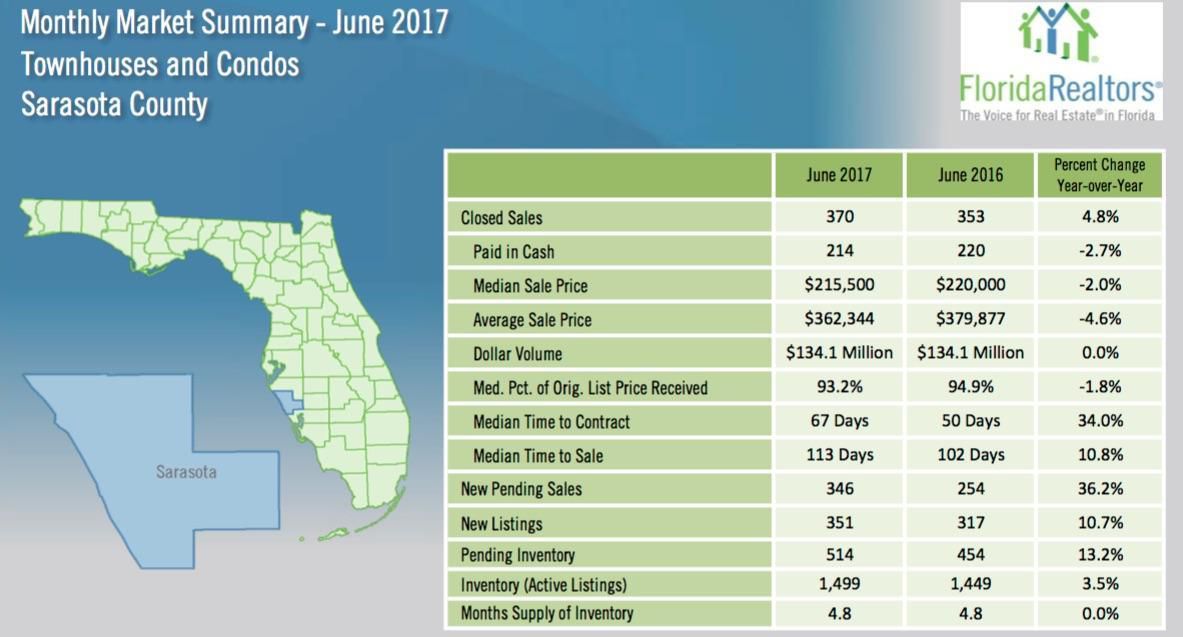 Editor's Note: For comprehensive statistics dating back to 2005, visit www.MyRASM.com/statistics
Information provided by Realtor® Association of Sarasota and Manatee (July 24, 2017)