Though the brakes were applied slightly in November, the Sarasota real estate market is still on track to have one of its best years ever. By the end of November last year (the second best year on SAR's record books), sales had reached 10,257. By the end of November this year, however, closed sales are on 10,621, that's up by 364.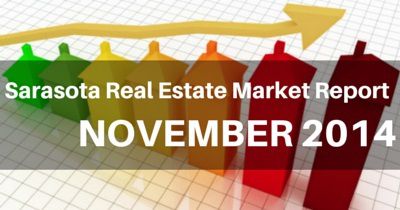 Lower Inventory Numbers And New Construction Affect Closed Sales Numbers
Closed sales in November were 711 (218 condos and 493 single-family homes). That represents a 7% drop over sales for November 2013 and a 30% decrease over October 2014. SAR President Peter Crowley speculated that lower inventory could be partially to blame for the drop off and that the uptake in new construction could also be a factor. Many new properties sell even before hitting the MLS, so those sales do not get reflected in the numbers.
Sarasota Real Estate Inventory Hovers At 4 Months
f new construction is picking up, that's good news for the Sarasota market. Inventory numbers have been getting tighter in the last few months. Current supply is 4.1 months for both single-family and condos. NAR considers 4 to 6 months the sign of a healthy market. Any lower will cause prices to rise and sales to drop off as buyers struggle to find properties that meet their needs. With inventory numbers hovering around 4 months, there was a danger of the market overheating. Hopefully, new construction coming into the market can address that.
Sarasota House Prices Up 18% In The Last Year
Another sign of market health is the percentage of distressed sales. That rate was 21% in November, down 3% from October and down 8% over November 2013. Looking ahead to December, pending sales are 725. This is fairly similar to last year's number of 758, so we should expect closed sales for the final month of the year to reflect 2013 numbers. This would put us on around 11,300 sales for the entire year and that figure is on track to finish ahead of last year's total, though a real surge would be needed to beat 2004's 11,482 closed sales.
Team Coffey and Company are the Sarasota real estate market experts! Call us today on 877.308.6311 or get in touch online. We're waiting to help you find your Sarasota dream home.