You wouldn't have thought it was possible to improve upon Lido Key's gorgeous white sand beaches, but the Ritz Carlton Beach Club has managed to do just that. With a spa, golf course and restaurant service right to your beach umbrella, the Ritz Carlton Beach Club experience goes above and beyond. The Club is perfect for vacationers and locals alike, with membership plans for residents and if you're here on holiday, all you need is to be a registered resort guest. You can enjoy the luxurious pool deck and beach access.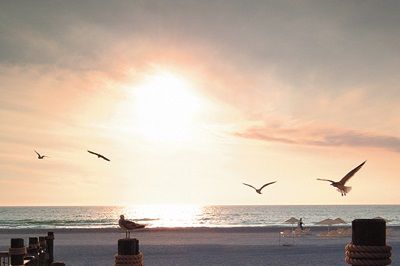 Let the Ritz Carlton Beach Club staff pamper you...
Upon entering you over look a beautiful pool with Royal Palms all around, majestically providing shade from the sun. Looking past the past the pool you can see the beach and the dancing waves of the warm turquoise water. You have the option to relax poolside or oceanside but if you can't make a firm decision then switch it up throughout your day! The Ritz Carlton Beach Club staff is wonderful and will have you set up with towels and icy bottles of water wherever you want, in no time! And make sure to ask for the pina colada smoothie. It's a delicious treat, perfect for a hot Florida day.
Get a bite from the Beach Club Grill...
There are also other options on the menu, including a variety of light lunch items, refreshments, beverages and cocktails with a tropical flair. If you get a bit hungry then have a sandwich delivered to you right on the beach! You can also eat at the Beach Club Grill, with a choice of indoor or outdoor terrace dining. The Beach Club Grill is a masterpiece of island-elegant design, Gulf Coast cuisine and fabulous views of the pool and beach. Additionally, the Sunset Terrace can be reserved for resort group functions and catered events.
Enjoy the benefits of membership...
Apart from the beach and the restaurants, members of the Ritz Carlton Beach Club enjoy a variety of other privileges, including access to the Tom Fazio designed championship golf course and the Wellness Center and Spa. As well, the club has an ongoing schedule of events—including a "Before and After" event with the Ladies of the Ritz-Carlton Spa on Wednesday May 7th and a wine dinner this Friday (April 25), featuring some of the best wines from the Napa Valley. Sounds like fun, right?
Settle in at the Ritz Carlton Beach Club Residences...
Maybe it sounds so great, in fact, that you want to live there? Well, you can do just that at the Ritz Carlton Beach Residences! We have a beautiful 2-bedroom plus den, 9th floor unit at the moment that offers water views from every angle. This fabulous condo is over 3000 Sq. Ft., with a huge wrap-around balcony. Inside you'll find a gourmet kitchen with custom cabinetry, a master suite with a roman tub, wet bar and walk-in closets and volume ceilings and wood flooring throughout. Shared amenities include 24 hour staffed security, private elevator, and a community pool, spa and fitness center. If you're looking for a Sarasota beachfront condo, few can compare to the Ritz Carlton Residences.
If you want more information about the Ritz Carlton Beach Club, contact Team Coffey and Company, today. Brandy is a member and would be happy to guide you through the membership options or show you what's available in the Residences. Call us on 877.308.6311