Sarasota's Harbor Acres has always been one of our favorite neighborhoods but current market conditions make this the moment to buy. Here's why we think you should consider Harbor Acres real estate:
1. It's A Buyers Market
There are 9 properties on the market in this neighborhood at the moment which equates to more than 6 months of stock and this is a buyers' market. So if you have been contemplating a move to Harbor Acres, now is the moment.
2. It's Waterfront
Imagine yourself relaxing in your backyard, looking down across the lawn to your boat, moored at your private dock and beyond that to a sparkling Gulf sunset. Set on two peninsulas that jut out into Sarasota Bay, there are many waterfront properties in Harbor Acres (7 for sale at the moment) which offer residents deep water moorage and unimpeded access to Sarasota Bay and the Gulf.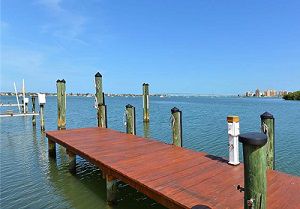 3. It's Central
This neighborhood is so close to Downtown Sarasota's cultural and entertainment offerings. Whether you're taking a class at the Art Center or enjoying a performance at the Opera, you won't be more than five minutes from home. And if you work at Sarasota Memorial, it's just a two block stroll to the hospital. Even Lido or Siesta Beach are just 10 minutes away.
4. There Are Still Teardowns Avaliable
Harbor Acres was originally developed in the 1940's and 50's and the neighborhood has been undergoing a lot of changes over the last few years, with more and more of the old homes, mostly small bungalows, being replaced by modern luxury residences. There are still some "teardowns" left though, so if you had thought about building your own home, Harbor Acres can offer you that possibility. Here's one that's on the market now:
5. No Architectural Review Requirements
If you are planning on building your own home or remodeling an existing home, another benefit of this neighborhood is that there is no architectural review requirement. This mean you can let your imagination run wild and it is certainly a contributing factor to the architectural diversity that makes this community so popular.
6. Live Oaks, Hundreds Of Years Old
The shady tree-lined streets are one of the most attractive features of Harbor Acres and you'll find tall waving palms standing side by side with huge Southern Live Oaks which are hundreds of years old. Buyers here are proud of these old trees and have been very careful to preserve them when replacing older homes with newer ones.
If you're interested in taking advantage of this prime time to buy in Harbor Acres, get in touch with Team Coffey and Company today. We'd be happy to arrange a tour. Call us on 877.308.6311